Hits: 794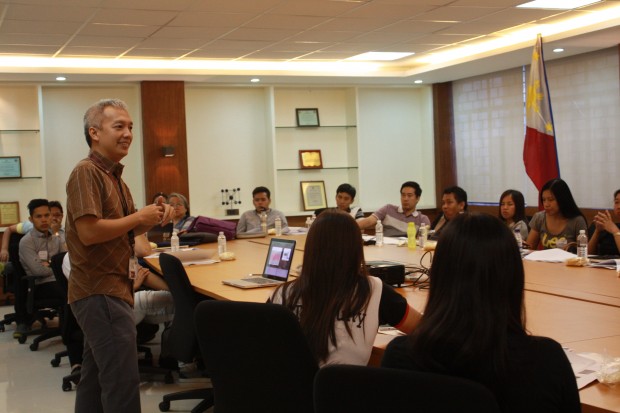 The DOST-UP Enterprise Center for Technopreneurship is assisting state universities and colleges (SUCs) in the country to establish their own technology business incubators (TBIs) through Project:Outreach. A typical TBI is managed through partnerships between technology-oriented or knowledge-intensive industries and academic institutions. This setup ensures a proper transition for innovations, through mentoring and networking, from the laboratory to the market. The goal of Project: Outreach is to help set up the support ecosystem, including establishing TBIs, to technology ventures in the areas of the participating schools.
"There is a need to cultivate a culture of technological innovation in the country especially through our higher education institutions. The presence of TBIs in schools will serve as a springboard for new technology-based products and services that can be made available to the public," said Dr. Luis Sison, program leader of the Enterprise Center.
The educational institutions currently assisted by the Enterprise Center are Batangas State University (BSU), Mindanao State University-Iligan Institute of Technology (MSU-IIT), and Bataan Peninsula State University (BPSU).
Through the provided assistance, participating education institutions are being set up to "breed their very own technopreneurs and market-ready ventures." Moreover, the schools are expected to look into their own research and projects, and determine which ones are fit for possible incubation.
At present, the selected schools have already identified the industries that they will focus on given their capabilities and comparative advantage—BSU for information and community technology and food processing, MSU-IIT for engineered-bamboo and information and community technology, and BPSU for aquaculture and tourism.
The pilot pre-incubation phase will take at least six months through the Innovation Acceleration Program by the Enterprise Center. The construction of the TBIs is expected to start this year.
Since the start of Project: Outreach, more than 20 faculty members from the three schools have been engaged in the planning and training sessions, and about 250 students are expected to undergo the technopreneurship class per semester.
DOST has been spearheading the establishment of TBIs in the country. Among the early incubators set up by DOST are those in UP Diliman, UP Los Baños, UP Cebu, and Central Luzon State University.
DOST also set up a TBI in partnership with the University of the Philippines and Ayala Foundation.
DOST has also been assisting startups by providing financial support to startups via technology commercialization grant and other venture financing support mechanism
Source: (http://newsinfo.inquirer.net/758648/state-universities-colleges-receive-assistance-to-establish-tech-business-incubators)