Hits: 259
TIMES CORE, a leading newspaper publishing company in South Korea, assisted BPSU President, Dr. Gregorio J. Rodis, BPSU Vice President for Academic Affairs, Dr. Emmanuel C. Macaraeg, BPSU International Affairs Head, Associate Professor Rowell de Guia, in their visit to universities and government agencies in Korea. TIMES CORE provided full financial support to BPSU delegates together with TIMES CORE officers, Ms. Maria Nenita Alba, TC SLC Supervisor, and Ms. Claribel Aresta, TC SLC Corporate Secretary, during their visit to Seoul, South Korea from 27-29 November 2017. The activity was part of the mutual agreement between BPSU and TIMES CORE to endeavor improvement of their institutional capacity to create and deliver international programs.
TIMES CORE introduced BPSU to higher education institutions and government agencies in Korea, such as Soonchunhyang University, Daejon University, Mokpo National Maritime University, Korea National Assembly, and King Sejong Institute Foundation.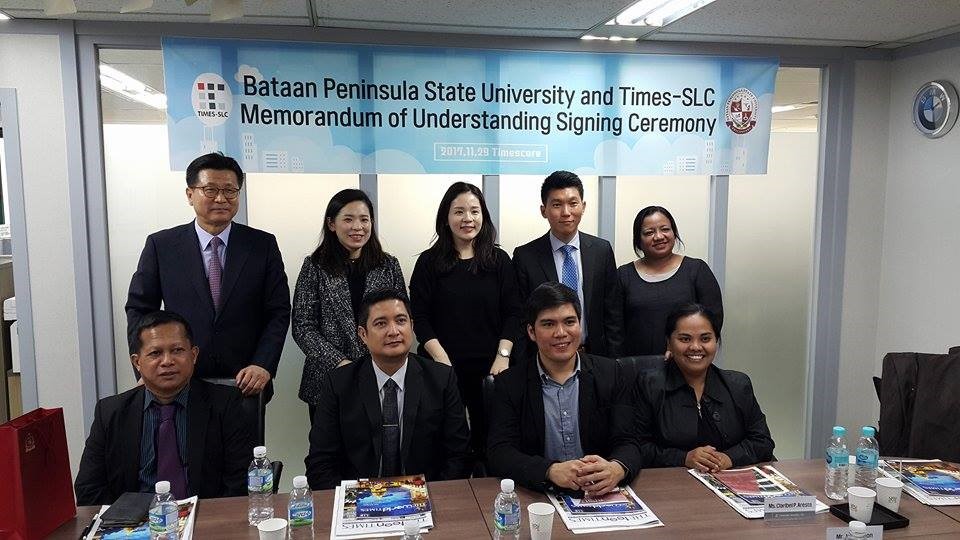 TIMES CORE Administrators and BPSU officials pose with Mr. Lee Deog-soo, TIMES CORE Chairman, and Dr. Gregorio J. Rodis, BPSU President after the MOU signing at the main office of TIMES CORE in Seoul, South Korea on 29 November 2017.