Hits: 322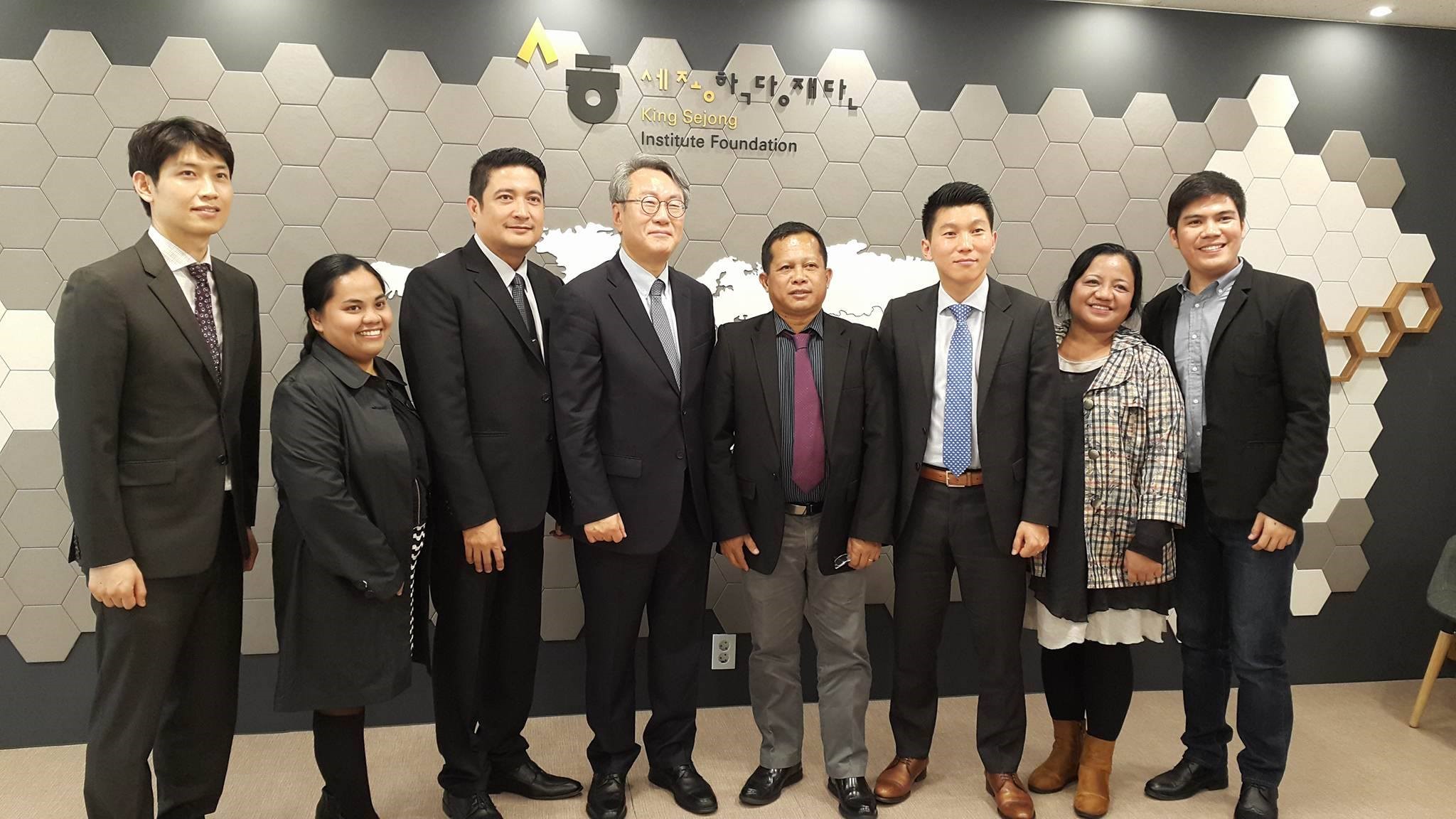 BPSU President, Dr. Gregorio J. Rodis paid a visit to the President of King Sejong Institute on 29 November 2017 to discuss the application of BPSU as a delivering institution of Korean Language and Culture Programs. King Sejong Institute Foundation is the Korean government arm that promotes Korean language and culture around the world. Through the foundation, King Sejong Institutes are put up in different parts of the globe. The foundation also supports the operations of institutions that delivers the King Sejong Programs.
With Dr. Rodis were the BPSU Vice President for Academic Affairs, Dr. Emmanuel C. Macaraeg; Head of International Affairs, Mr. Rowell de Guia; BPSU Korean professor and Chief Director of TIMES CORE, Mr. Jae Woo Jeon; Supervisor at TIMES CORE SLC, Ms. Naneth Alba; and Corporate Secretary of TIMES CORE SLC, Ms. Claribel Aresta. The group had a sit-down discussion with Dir. Jeong Jongkwon, Hakdang Support Department, Choe Jangho, Hakdang Support Department Staff, and Dr. Song Hyangkeun, President of King Sejong Institute. The discussion focused on the qualifications of BPSU as an applicant institution to offer Korean Language and Culture program in the Philippines.
Assoc. Prof. Rowell de Guia presented an overview about BPSU and showcased the facilities and programs that will benefit not only the local but also the foreign students. In addition, Dr. Gregorio J. Rodis laid out the university's plan to open the International Education Center and to standardize the offering of foreign language programs at BPSU. He added that, aside from Korean language, the university also plans to offer Spanish language in cooperation with University of Salamanca and Instituto de Cervantes. Moreover, Dr. Emmanuel C. Macaraeg talked about the revision of the curricula and the integration of foreign languages into the bachelor's programs. Finally, The President of King Sejong Institute expressed his hopes that BPSU become an active partner of King Sejong Institute Foundation in promoting Korean language and culture not only in the Province of Bataan but also in the entire Philippines.